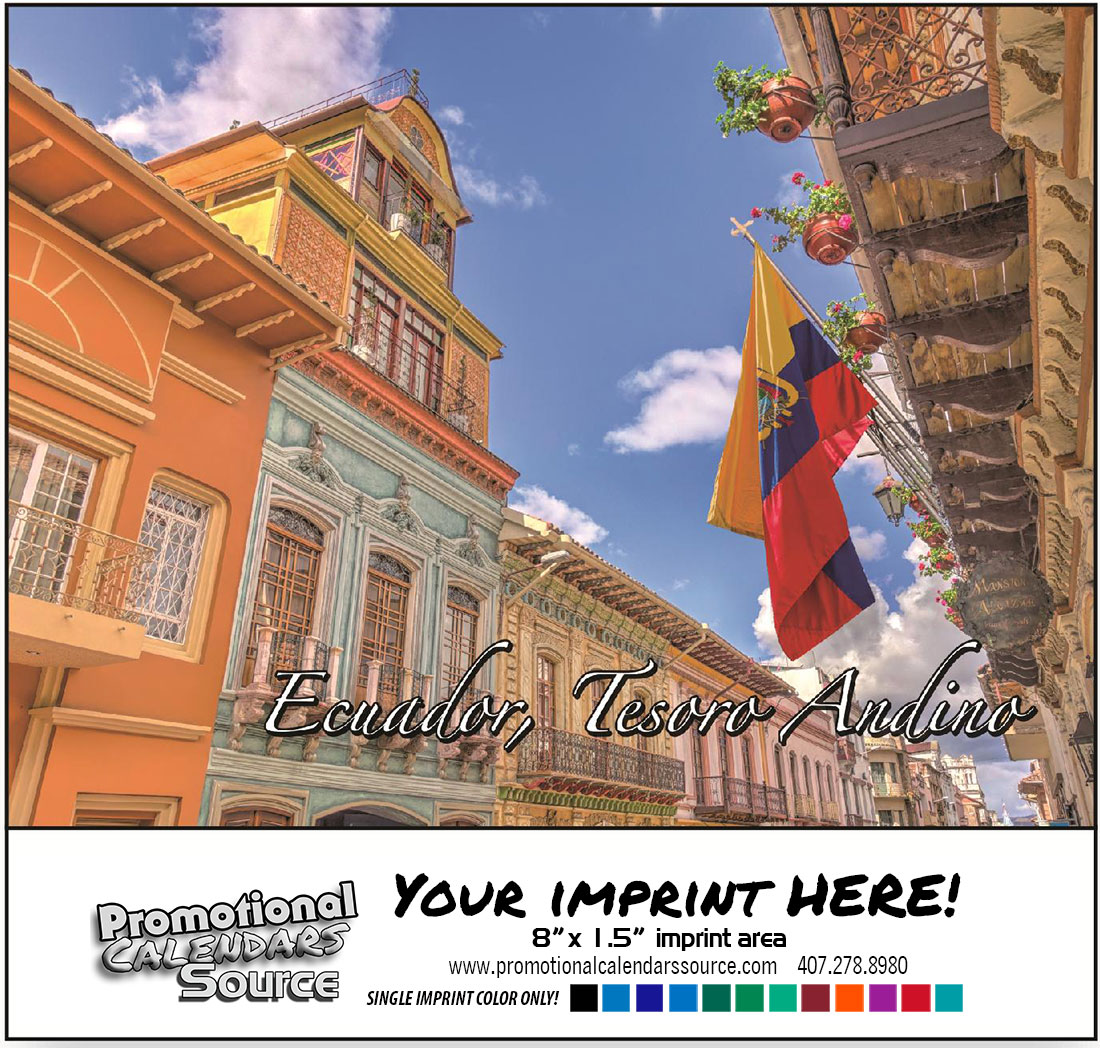 Description
Lose yourself in the photos of this historic South American land of Ecuador. Come to The Galapagos, Quito, Cuenca and Guayaquil and see why this country is called the Andean Treasure.
Calendar pad and dates info are printed in both English and Spanish.


This is a Bilingual Spanish-English Calendar.


Available only with One color of imprint.


FREE Set-up for BLACK imprint.


Set-up for other standard color $ 15.00


Combinable subjects (in multiples of 100) from the GB product line.


18 subjects to chose from.


Ecuador Tesoro Andino Bilingual Calendar English/Spanish
Item No :

GB-1023

Imprint area :

8" x 1.5"

Price :

1.01

Product Dimension :

11x18.5"

Set Up :

FREE

Quantity

Pricing US$ :

CategoryName :

Spanish English Bilingual Calendars

Unit :

10-12 Business days

Totalsize :

0

Color :

0

Original price :

1.01

Material :

Cover: 90 lb. Cover stock, Grid: 65 lb. Text

CartonWeight :

25 lb. x 100

Features :

Bilingual Calendar, 12 Month Scenic Calendar, Free Setup,One Color Imprint, Latinoamerica Scenic Calendar, Bilingual Spanish-English Wall Calendar,

Colors :

White

Imprint Method :

Offset

Standard Imprint Color :

Black, Process Blue, Reflex Blue, Blue 300, Green 336, Green 348, Pantone Green, Maroon 202, Orange 021, Purple 254, Red 186, Teal 320

Set-up :

FREE

Stock Imprint Colors :

Black, Process Blue, Reflex Blue, Blue 300, Green 336, Green 348, Pantone Green, Maroon 202, Orange 021, Purple 254, Red 186, Teal 320

Extra Charges :

Ink Colors other than Black $ 15.00 per color
Copy change $ 20.00 each, min. 200 units per change
Halftone photo with copy $ 15.00 each set-up
Cancellation $ 50.00 plus costs incurred
Drop Ship $ 10.00 per location
International Shipments $ 65.00 per location handling fee

Proofs :

Email Proof no charge

Packaging :

Plain Envelopes Bulk $ 0.25 each

Price includes :

Unit price includes BLACK imprint / 1 Location. For other standard color see Extra Charges tab.
Shipping & Handling Is Additional.

Tags :

promotional calendar ecuador, scenic views of ecuador, latino america calendar ecuador,